The weather outside may be frightful, but camping is never far from our minds. While recently doing some online research we stumbled upon bacon s'mores, which lead to this quick review of our love of bacon!
Ode to Bacon      

Crispy, crunchy, sizzly treat
That's the bacon I like to eat!
Covered in eggs,
smothered in jam,
Its not like we're talking
about eating ham.
O bacon, you salty
masterpiece of pork
Pass on the spoon,
give me a fork!
Or perhaps none at all,
I'll just use my hands
Bacon, dear bacon, you're
the best in the land!

 by Shana M Chartier


---
While bacon dates back to 1500 BC the current craze over bacon or Bacon Mania has been traced to the late 1990s when high-protein foods became popular due in part to the Atkins diet.
We're hooked. There's bacon flavoured and scented everything. From tea to candy canes, hot sauce, vodka, coffee, olive oil, cotton candy, chips and beer, gum and ice cream. There's even a restaurant in New York City that serves only bacon. There are National and International Bacon Days. And for those not interested in eating the real thing, there are bacon substitutes galore. Salmon bacon, carrot bacon, tempeh strips (fermented soy beans), mushroom bacon, seitan bacon (wheat protein), even dulse?
For many, bacon and camping are like summer and sunshine.
It's the perfect camping food. Easy to travel with and a great source of protein with plenty of calories to fuel a day of adventure. So versatile it can also be part of any meal, breakfast, lunch or dinner.
And it tastes as good as it smells!
So back to the Bacon S'more.
You've got your campsite and your bacon, you have the fire lit and now you are thinking about S'mores.
First, prepare a BACON WEAVE! (pictured)
Now skip the graham crackers and use a bacon weave top and bottom with chocolate and roasted marshmallows in the middle.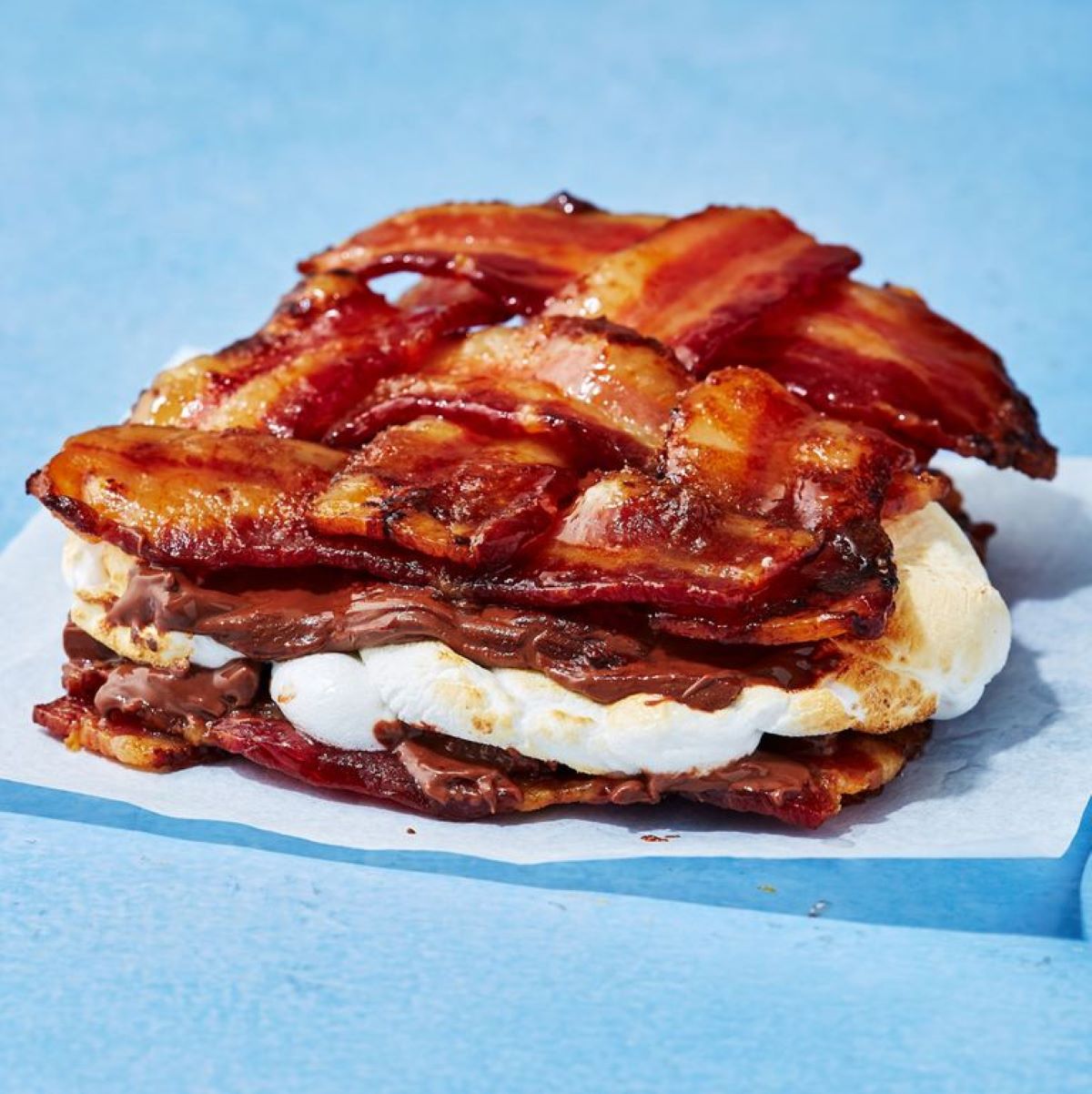 We give you ….. the Bacon S'more !
---