Background of Murphy's Camping on the Ocean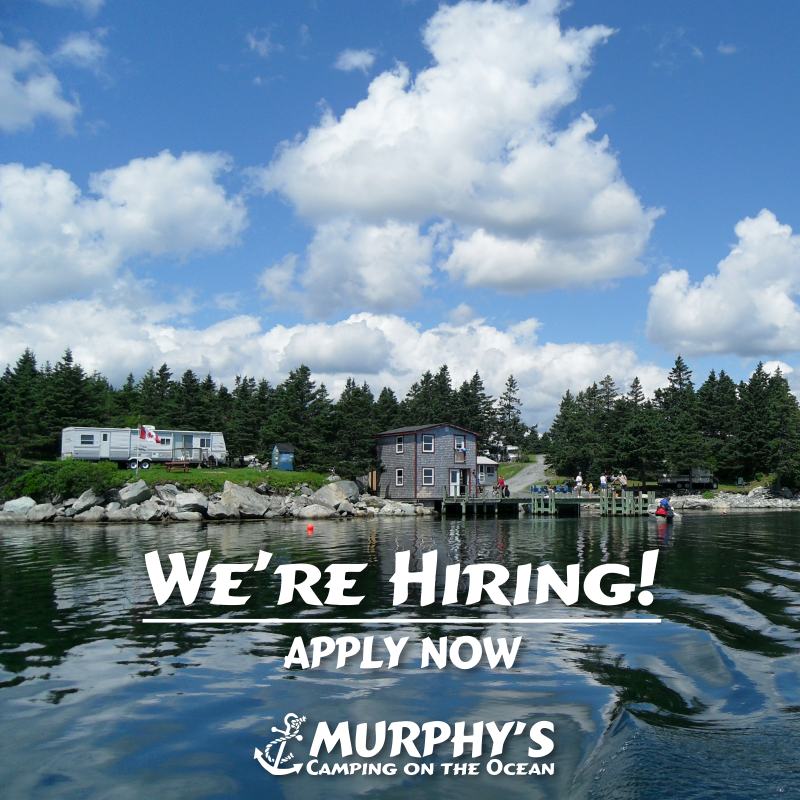 Pursue your passion for adventure at Murphy's Camping on the Ocean, a family operated campground located in Murphy Cove, Nova Scotia. Murphy's Camping has been listed by the Globe & Mail as one of the 10 best campgrounds in Canada and is a vacation retreat for families and friends. Operating as a gateway to the 100 Wild Islands, the campground serves more than 4000 guests per year, on average, and has accommodated guests from over 55 different countries since its founding in 1960.
Work to Stay
Anyone visiting our area while in Nova Scotia and would like to stay longer by working a few hours each day, please contact us for more information.
Current Job Positions
---
Posting #1 – Wild Islands Experience Ambassador
Compensation
($12.50/hour, 25-35 hours/week)
Estimated Work Term
May 7th – October 7th
Why Work at Murphy's?
Gain solid business skills as you learn to design and administer unique Wild Islands experiences
Gain customer service experience in a vibrant, growing tourism business
Expand your cultural knowledge by interacting with people from all over the world
Enjoy the summer in a friendly, relaxed work environment
Qualifications
18 years of age or older by job start date
Expecting to complete 1st or 2nd year university or community college by May 2018
Experience and education in the tourism/service industry is an asset
Work Tasks and Responsibilities
Continued development and promotion of our Wild Islands Adventures
Administration of the Wild Islands Adventures
General campground administration as needed
Assistance with other campground projects as needed
Apply online using the form below
---
Posting #2 – Guest Services Assistant
Compensation
($12.00/hour, 30-40 hours/week)
Estimated Work Term
June 25th – August 31st
Why Work at Murphy's?
Gain customer service experience in a vibrant, growing tourism business
Expand your cultural knowledge by interacting with people from all over the world
Enjoy the summer in a friendly, relaxed work environment
Qualifications
16 years of age or older by job start date
Expecting to complete grade 11 or 12 in June and returning to school in September
Experience and education in the tourism/service industry is an asset
Work Tasks and Responsibilities
Greeting & registering guests into the campground
Accepting reservations and answering guest inquiries by phone, email, and in person
Registering & scheduling guests for Wild Islands Adventures and Scenic Boat Tours
Grounds-keeping & facility maintenance
Administration of the Wild Islands Adventures
Other general campground administration as needed
Assistance with other campground projects as needed
Apply online using the form below