Background of Murphy's Camping on the Ocean
Murphy's Camping on the Ocean is a family operated campground located in Murphy Cove, Nova Scotia. We've been listed by the Globe & Mail as one of the 10 best campgrounds in Canada. We've also been featured by GoRVing Canada, Canadian Geographic, Nova Scotia Nature Trust, A for Adventure, Go Nomad, Washington Post, and many more. Murphy's is a vacation retreat for families and friends, operating as a gateway to the 100 Wild Islands (www.100wildislands.ca).
Murphy's Camping provides a rustic camping experience offering scenic boat tours and nightly communal campfires & mussel boils. The campground serves approximately 4000 guests per year, on average, and has accommodated guests from over 50 different countries around the world. It offers 25 unserviced tent sites, 14 serviced RV sites, 11 seasonal sites, and 4 rental units.
---
Work to Stay
Anyone visiting our area while in Nova Scotia and would like to stay longer by working a few hours each day, please contact us for more information.
---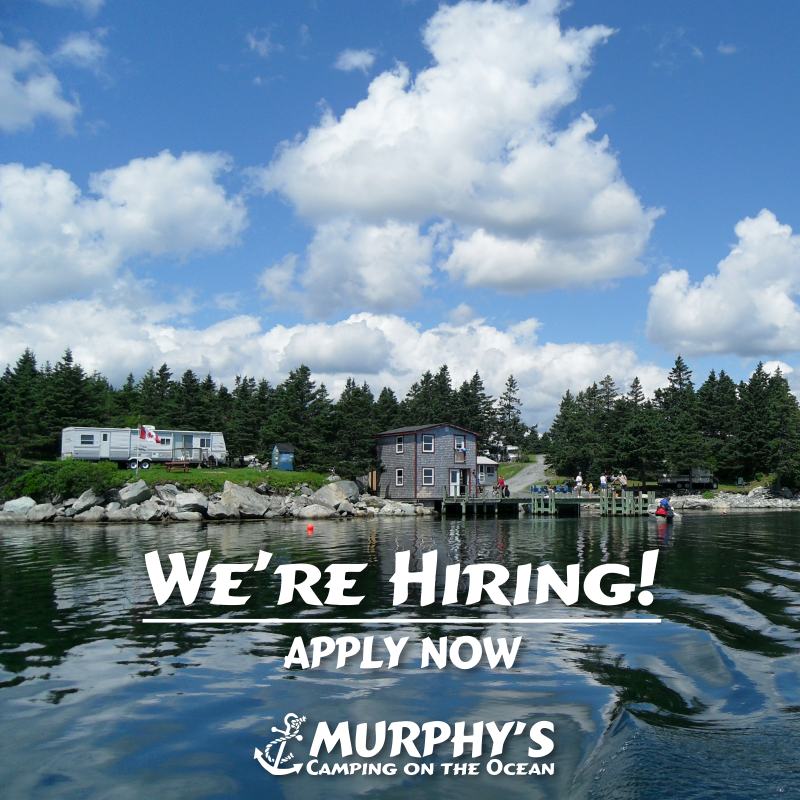 Summer 2017 Job Positions – 2 Positions
Job Title
Campground Assistant
1 Administrative Position
1 Grounds Keeper Position
Compensation
$12.00/hour, 30 hours/week
Work Term
June 19th – September 3rd
Why Work at Murphy's?
Gain customer service experience in a vibrant, growing business operating in Nova Scotia's hospitality industry
Develop your skill set in a friendly, relaxed work environment
Expand your cultural knowledge by interacting with people from all over the world
Qualifications
15 years of age or older by job start date
Expecting to complete grade 11 or 12 in the current academic year
Plan to continue education in the next academic year
Previous experience in the tourism/service industry is an asset
Ability to speak French is an asset
Work Tasks and Responsibilities
Campground Assistant (Administrative – 1 position)
Greeting & registering guests
General office duties
Maintaining washrooms to ensure cleanliness
Assistance with grounds maintenance and other tasks as needed
Campground Assistant (Grounds Keeper – 1 position)
Maintaining the grounds to ensure cleanliness
Assisting guests as needed to ensure a positive experience
Assisting with campground projects
Assistance with office duties and other tasks as needed
Supervision
Supervision will be provided while performing daily tasks, and direction will be provided as needed for projects.
Training
General orientation, including hands-on training with the campground reservation system, will be provided. Task specific training will be provided as required. Best practices surrounding health and safety will be provided during orientation. Specific safety concerns will be addressed before commencing each project.
How to Apply
Email your resume and cover letter to: [email protected]
Please include your name and phone number.
Successful applicants will be contacted for an interview.