Along our coastline lies a little known, yet incredible, natural treasure. It's a vast and beautiful archipelago of over 100 Wild Islands. Considered to be "The most valuable islands you've never heard of", the archipelago is one of the last remaining intact and ecologically rich island groups of its size in North America, the rugged beauty simply can't be put into words. Join captain Brian Murphy for an interactive scenic boat tour to experience the tranquility and breathtaking views for yourself.
The Tour Boat
Our tour boat, "Murphy's Legacy", is the last traditional Cape Island style boat built by the late Norm Hutt, a famous local boat builder from Owl's Head, which lies just 4 kilometres west of the campground. You can learn more about Norm Hutt and his traditional boat building skills by visiting his boat shop, which has been relocated from Owl's Head to Memory Lane Heritage Village.
Scenic Boat Tours
During a 1.5 hour tour, you will travel approximately 5 km around the coastal islands enjoying breathtaking views of cliffs, beaches, coves, and sea shanties. You will experience marine life such as osprey, eagles, seals, porpoise, and sometimes even whales!
Brian will often stop the boat for a few minutes and passengers can try their hand at fishing. Young passengers will be offered the chance to 'captain' the boat.
Guests must sign up and provide payment in advance to reserve a spot on the boat. Each tour requires a minimum of 6 persons to sign up.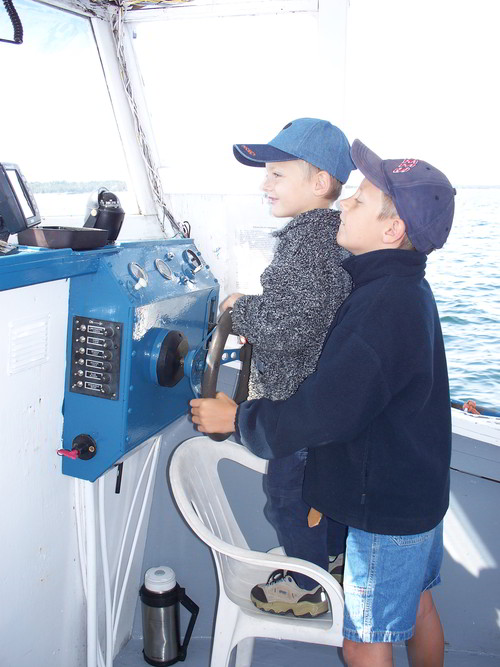 Boat Charter
You may consider chartering the boat if you are looking for an: extended tour, private tour, adventure tour, and/or fishing tour.
Charters must be booked in advance, and will depend on availability and weather.