Fabulous setting, great boat tour, wonderful delightful captain and guide

-Margaret Merlin-Wilson, May 6th 2019
Great camping spot!!
Make sure to go on the boat tour in the harbor

-Rodney Wiebe, January 22nd 2019
Great spot, nightly community campfires and mussel boil. We had a great stay and enjoyed our time here

-Tracey Lynn, October 11th 2018
A very nice place to stay. Great access to the ocean for all your paddling adventures bathrooms are clean and very friendly. Check it out

-Christopher Lockyer, October 4th 2018
Very enjoyable campground. The owners are friendly, outgoing and knowledgeable of the islands and history. Fun communal camp fire every night with mussels! The islands are easy to kayak or take a guided tour

-Rob Martin, September 17th 2018
Love camping and kayaking here and exploring the area. Owners and staff are so friendly and helpful. Win, win area, we always end up giving back to the community, buying local products or eating at local establishments while there and /or on the way home

-Debs G., September 9th 2018
Very friendly campsite and great views

-Kirsty Britnell, September 4th 2018
This is a wonderful small camping by the ocean. Owners are very friendly. Boat tour is a must as the views are just magnificent.

-Jean-Francois Dugul, August 15th 2018
Beautiful scenery, good facilities. The place has personality, and the owners more so.

-Joe Ludlum, July 22nd 2018
We have visited Murphy's before not being campers to go on their amazing boat tour, now we own an Rv and love going there can't believe it's in our own backyard as we are from Halifax area!!!

-Alexander MacDonald, October 14th 2017

Great community atmosphere

-Kevin Shebib, October 4th 2017

Best camping trip we ever took! There were about 8 of us couples and we explored, caught our own fish and cooked it over an open fire and passed it around and shared it, played badminton, frisbee, had late night fires with guitars, roughed it in our tents and loved every minute of it!!!

-Angela Wilson, August 19th 2017

5 STARS just isn't enough. I honestly didn't want to leave. from the 7 a.m. coffee and morning chats in the sailors rest, to the nightly campfire, it's just a piece of heaven on earth. The boat tour is great, and you get to steer the boat. 5 plus stars all round….

-William Primrose, August 18th 2017
Wonderful site on a quiet little bay. Beautiful views, sites organized to give privacy, not tight rows like most campgrounds. Owners have a campfire down near the water, nightly and boil a pot of mussels for all to enjoy. Coffee & conversation in the morning if you want in Murphy's "Museum"

-David Toffoli, July 13th 2017
This is a great, well managed campground. I go there a couple times a summer and always have a great time.

-Andrew Townsend, October 14th 2016

SO unique and beautiful, and very accommodating. We got there very late, and were able to set up our tent and settle up in the morning, which we very much appreciated after driving all the way from Meat Cove! They clearly take great care in the experience their guests have, and great pride in their beautiful campground! Can't wait to come back!
-Marie Gardner, September 17, 2016
Amazing experience! Everyone is so nice and knowledgeable! Already planning when we can come back.
-Kayla Short. September 15, 2016
This was a great spot to camp with very unique sites. Each one different. Everything was clean and I felt at home on the grounds. See you again next year I hope.
-Steven Hebert. September 11, 2016
My husband Nigel and I stopped here on a side trip for 2 nights in mid-July, while en route to NFLD. I'm so glad we did! We spent lots of time chatting with Brian, the owner and his lovely wife. The hospitality was phenomenal and the humour infectious. Brian, a sixth generation Murphy, expanded much effort in keeping the park spotless and the campers happy. The view at the ocean was beautiful and a calm vibe permeated the place.
-Kerri H, from Ontario September 8, 2016
My children and I loved our stay at Murphy's. We rented the loft and we're very comfortable. It is such a beautiful spot and run by friendly people.
-Mary Mackinnon-Parisien, from Nova Scotia, August 12, 2016
We had a great time camping for 2 nights in July. We enjoyed their nightly camper fire where we met other travellers. The hosts even have nightly fresh mussels cooker over the fire and shared with all the campers. Quiet and clean campground and we would definitely return some day!
-Bev Morgan, from Ontario. August 5, 2016
This was our favorite place to stop as we road tripped across the Maritimes. Efforts were evident everywhere that Brian and family took pride in their little spot! The mussel campfires, the free coffee in the morning and the outdoor wash sinks were all bonuses our family loved. We were lucky to meet his two daughters as well and chat with them about east coast life. Thanks for the chats and the welcoming, clean family environment!
-Dubés, from Ontario. August 3, 2016
---
Leave your own comments!
We encourage you to leave your comments on one of our social media platforms
---
That's a perfect place for camping. Take a boat tour where you have a chance to catch some Atlantic mackerel. The host organizes campfire every evening where you can cook your fish in the foil. Have some complementary mussels boiled on the fire. Ask the host to cast a blue fire spell!
-Dmitry Marin (August 2016)
Beautiful, and great ppl who give complimentary fresh mussels as an evening snack around a community fire. Great experience
Sheldon Lucyk (August 2016)
Some nice sites. Friendly staff. Morning coffee and nightly fire are a nice bonus!
-Allan (August 2016)
We are from Dartmouth, Nova Scotia. We are 2 young adult with a 3 years old boy. Now I'm going to tell you 20 good reasons to go to this camping and nowhere else. 6 stars at least for this place, I won't go anywhere else. It felt like family there, so sad we had to leave.
-Kathrynn G, from Nova Scotia. July 31, 2016
This is a beautiful campground on the ocean. It is a perfect spot for kayaking with beautiful views around every corner. Nightly group fires with mussels are a great way to end the day. Brian's boat tour was well worth the money. People were very friendly and owners accommodating. Would definitely return.
-Helen, from Canada. July 26, 2016
We were a party of 3 who stayed in tent site 42 stayed July 2-4th/16. It was our first time and we would certainly go back again. The hosts were hospitable and had a community fire pit gathering and boiled mussels every night. There was plenty of things to do, with boat trips, fishing, canoeing etc. along with a variety of card and board games available. The views are amazing, especially as the sun is rising. Oh and can't forget the free morning coffee .We had a great time…
-Jenn, Chrissy and Julie, from Nova Scotia. July 5, 2016
Possibly Nova Scotia's best kept secret! What a beautiful family owned and operated getaway. Free Wi-Fi, morning coffee, and mussels by the campfire! A great sense of community. Can't wait to get back!
-Lauren Forrester, from Nova Scotia. June 15,2016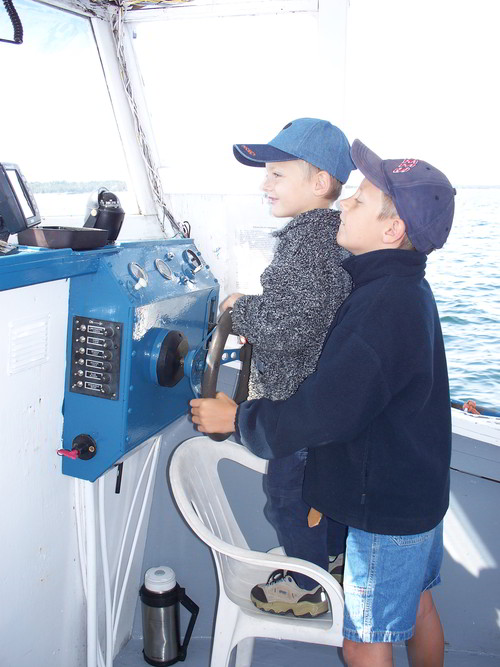 Great location and wonderful people. Love the mussel boil at the campfire near the marina, compliments of the hosts. Views are amazing.
Vicky Good-Dubecki (June 2016)
This isn't just camping, this is community! I came alone, on my bike, and I left the next day saying bye too many, many new friends… all thanks to the atmosphere, the communal campfire, the boat tour, and the magic created by Brian, and by the islands and the sea. I can't wait to go back to Murphy's, and stay longer this time. My very short stay was one of the biggest highlights of my three-week biking trip in Nova Scotia!
-Gaba Jakubovits, from Quebec. October 7, 2015
OMG, this place is awesome, the Murphy's are great people, met lots of people from all around, USA, Canada, and Germany. Can't wait to come back next year.
-Paul Jones, From Ontario. September 23, 2015
It's been about 1 month now since we had a marvelous Weeks stay and already I'm trying to figure out when we can go back again. Living in Ottawa makes it a little more difficult but if I were local, I'd have to think I would be there a few times a year. I still chuckle over the campfire stories and Steve's Train joke. We met some great people from as far away as Germany and all points in-between. Can't wait to get back again. Thanks again for the great Hospitality and the vacation memories.
-Wayne Hobbs, From Ontario. September 3, 2015
We stayed at Murphy's for two nights in June and had a great time. Amenities were plentiful, washrooms were clean, and campsites were grassy and well-groomed. But what really set this campground apart was the personal attention from the owners, Brian and Marilyn. This included early morning tea, an afternoon boat tour of the area, an evening of cribbage, all topped off with a campfire and mussel bake. This location is highly recommended, and we cannot wait for our next visit.
-Boris L, from, Halifax, Nova Scotia. July 8, 2015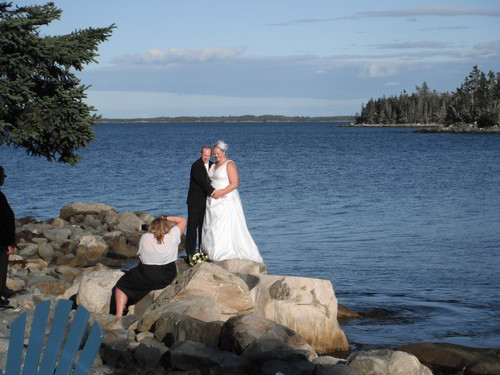 I love this place. The people are most friendly and from the moment we arrived, we were made feel like we belonged here. Beautiful!!!
-Wade Swinimer, from Nova Scotia. May 16, 2015
My spouse and I stayed at Murphy's Camping on the Ocean for 2 nights in August and the only problem we had was that we hadn't booked additional nights! We absolutely loved it there. We rented a trailer on lot 33 — right by the shoreline. We are definitely going back in 2015! This is an excellent experience, highly recommended and great value for your money spent!!!
(Name not available) From Nova Scotia August 12, 2014
So sad we have to leave tomorrow. Brian and Marilyn thank you for your hospitality you were great hosts!
-Wilma Coats Archer, From Ontario. July 23, 2014
---
Leave your own comments!
We encourage you to leave your comments on one of our social media platforms