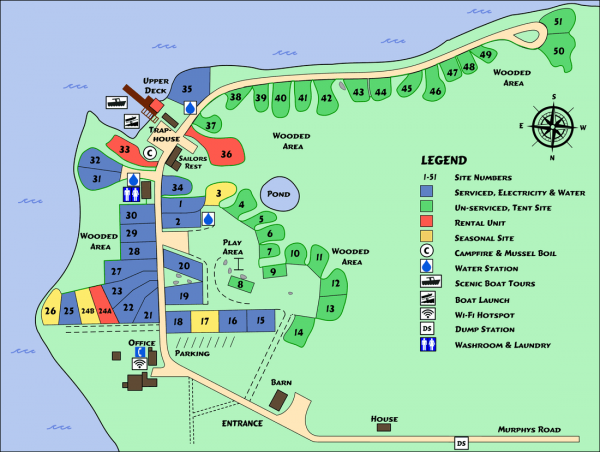 We offer 26 campsites for tenting, with a wide selection to choose from including: Wooded, Open, Ocean View, etc… Each tent site has its own campfire pit and picnic table. Give us a call and we will help you find the perfect site.
Consider our accommodation package to receive two live lobsters, homemade bread, two 2-hour kayak rentals, and a 1.5 hour scenic boat tour with your stay.
Our Work to Stay program allows you to trade some of your time for your campsite.
Here's a list of services we offer.
Tent Site Rates
We offer a 15% discount if you stay at least 7 days. View More Detailed Rates.
We're currently experiencing technical difficulties with our rates tables.
Click here to view a complete list of our rates.
* – Tax included
** – No Tax
Tent Site Vacancy
**Important Note** The following vacancy charts are updated automatically from our reservation database twice each day, once in the morning and once in the evening. Reservations or cancellations that occur in between updates are therefore not reflected until the next update time.
May 2021 - Tent Sites
| | | | | | | | |
| --- | --- | --- | --- | --- | --- | --- | --- |
| | = Reserved | | | = Unavailable | | | = Vacant |
| | | | | | | | |
| --- | --- | --- | --- | --- | --- | --- | --- |
| | = Reserved | | | = Unavailable | | | = Vacant |
May 2021 Jun Jul Aug Sep Oct


Site

Sa
1

Su
2

Mo
3

Tu
4

We
5

Th
6

Fr
7

Sa
8

Su
9

Mo
10

Tu
11

We
12

Th
13

Fr
14

Sa
15

Su
16

Mo
17

Tu
18

We
19

Th
20

Fr
21

Sa
22

Su
23

Mo
24

Tu
25

We
26

Th
27

Fr
28

Sa
29

Su
30

Mo
31


Site

4

4

5

5

6

6

7

7

8

8

9

9

10

10

11

11

12

12

13

13

14

14

37

37

38

38

39

39

40

40

41

41

42

42

43

43

44

44

45

45

46

46

47

47

48

48

49

49

50

50

51

51


Site

Sa
1

Su
2

Mo
3

Tu
4

We
5

Th
6

Fr
7

Sa
8

Su
9

Mo
10

Tu
11

We
12

Th
13

Fr
14

Sa
15

Su
16

Mo
17

Tu
18

We
19

Th
20

Fr
21

Sa
22

Su
23

Mo
24

Tu
25

We
26

Th
27

Fr
28

Sa
29

Su
30

Mo
31


Site
Last update: October 19, 2020 at 7:00 PM
June 2021 - Tent Sites
| | | | | | | | |
| --- | --- | --- | --- | --- | --- | --- | --- |
| | = Reserved | | | = Unavailable | | | = Vacant |
| | | | | | | | |
| --- | --- | --- | --- | --- | --- | --- | --- |
| | = Reserved | | | = Unavailable | | | = Vacant |
May June 2021 Jul Aug Sep Oct


Site

Tu
1

We
2

Th
3

Fr
4

Sa
5

Su
6

Mo
7

Tu
8

We
9

Th
10

Fr
11

Sa
12

Su
13

Mo
14

Tu
15

We
16

Th
17

Fr
18

Sa
19

Su
20

Mo
21

Tu
22

We
23

Th
24

Fr
25

Sa
26

Su
27

Mo
28

Tu
29

We
30


Site

4

4

5

5

6

6

7

7

8

8

9

9

10

10

11

11

12

12

13

13

14

14

37

37

38

38

39

39

40

40

41

41

42

42

43

43

44

44

45

45

46

46

47

47

48

48

49

49

50

50

51

51


Site

Tu
1

We
2

Th
3

Fr
4

Sa
5

Su
6

Mo
7

Tu
8

We
9

Th
10

Fr
11

Sa
12

Su
13

Mo
14

Tu
15

We
16

Th
17

Fr
18

Sa
19

Su
20

Mo
21

Tu
22

We
23

Th
24

Fr
25

Sa
26

Su
27

Mo
28

Tu
29

We
30


Site
Last update: October 19, 2020 at 7:00 PM
July 2021 - Tent Sites
| | | | | | | | |
| --- | --- | --- | --- | --- | --- | --- | --- |
| | = Reserved | | | = Unavailable | | | = Vacant |
| | | | | | | | |
| --- | --- | --- | --- | --- | --- | --- | --- |
| | = Reserved | | | = Unavailable | | | = Vacant |
May Jun July 2021 Aug Sep Oct


Site

Th
1

Fr
2

Sa
3

Su
4

Mo
5

Tu
6

We
7

Th
8

Fr
9

Sa
10

Su
11

Mo
12

Tu
13

We
14

Th
15

Fr
16

Sa
17

Su
18

Mo
19

Tu
20

We
21

Th
22

Fr
23

Sa
24

Su
25

Mo
26

Tu
27

We
28

Th
29

Fr
30

Sa
31


Site

4

4

5

5

6

6

7

7

8

8

9

9

10

10

11

11

12

12

13

13

14

14

37

37

38

38

39

39

40

40

41

41

42

42

43

43

44

44

45

45

46

46

47

47

48

48

49

49

50

50

51

51


Site

Th
1

Fr
2

Sa
3

Su
4

Mo
5

Tu
6

We
7

Th
8

Fr
9

Sa
10

Su
11

Mo
12

Tu
13

We
14

Th
15

Fr
16

Sa
17

Su
18

Mo
19

Tu
20

We
21

Th
22

Fr
23

Sa
24

Su
25

Mo
26

Tu
27

We
28

Th
29

Fr
30

Sa
31


Site
Last update: October 19, 2020 at 7:00 PM
August 2021 - Tent Sites
| | | | | | | | |
| --- | --- | --- | --- | --- | --- | --- | --- |
| | = Reserved | | | = Unavailable | | | = Vacant |
| | | | | | | | |
| --- | --- | --- | --- | --- | --- | --- | --- |
| | = Reserved | | | = Unavailable | | | = Vacant |
May Jun Jul August 2021 Sep Oct


Site

Su
1

Mo
2

Tu
3

We
4

Th
5

Fr
6

Sa
7

Su
8

Mo
9

Tu
10

We
11

Th
12

Fr
13

Sa
14

Su
15

Mo
16

Tu
17

We
18

Th
19

Fr
20

Sa
21

Su
22

Mo
23

Tu
24

We
25

Th
26

Fr
27

Sa
28

Su
29

Mo
30

Tu
31


Site

4

4

5

5

6

6

7

7

8

8

9

9

10

10

11

11

12

12

13

13

14

14

37

37

38

38

39

39

40

40

41

41

42

42

43

43

44

44

45

45

46

46

47

47

48

48

49

49

50

50

51

51


Site

Su
1

Mo
2

Tu
3

We
4

Th
5

Fr
6

Sa
7

Su
8

Mo
9

Tu
10

We
11

Th
12

Fr
13

Sa
14

Su
15

Mo
16

Tu
17

We
18

Th
19

Fr
20

Sa
21

Su
22

Mo
23

Tu
24

We
25

Th
26

Fr
27

Sa
28

Su
29

Mo
30

Tu
31


Site
Last update: October 19, 2020 at 7:00 PM
September 2021 - Tent Sites
| | | | | | | | |
| --- | --- | --- | --- | --- | --- | --- | --- |
| | = Reserved | | | = Unavailable | | | = Vacant |
| | | | | | | | |
| --- | --- | --- | --- | --- | --- | --- | --- |
| | = Reserved | | | = Unavailable | | | = Vacant |
May Jun Jul Aug September 2021 Oct


Site

We
1

Th
2

Fr
3

Sa
4

Su
5

Mo
6

Tu
7

We
8

Th
9

Fr
10

Sa
11

Su
12

Mo
13

Tu
14

We
15

Th
16

Fr
17

Sa
18

Su
19

Mo
20

Tu
21

We
22

Th
23

Fr
24

Sa
25

Su
26

Mo
27

Tu
28

We
29

Th
30


Site

4

4

5

5

6

6

7

7

8

8

9

9

10

10

11

11

12

12

13

13

14

14

37

37

38

38

39

39

40

40

41

41

42

42

43

43

44

44

45

45

46

46

47

47

48

48

49

49

50

50

51

51


Site

We
1

Th
2

Fr
3

Sa
4

Su
5

Mo
6

Tu
7

We
8

Th
9

Fr
10

Sa
11

Su
12

Mo
13

Tu
14

We
15

Th
16

Fr
17

Sa
18

Su
19

Mo
20

Tu
21

We
22

Th
23

Fr
24

Sa
25

Su
26

Mo
27

Tu
28

We
29

Th
30


Site
Last update: October 19, 2020 at 7:00 PM
October 2021 - Tent Sites
| | | | | | | | |
| --- | --- | --- | --- | --- | --- | --- | --- |
| | = Reserved | | | = Unavailable | | | = Vacant |
| | | | | | | | |
| --- | --- | --- | --- | --- | --- | --- | --- |
| | = Reserved | | | = Unavailable | | | = Vacant |
May Jun Jul Aug Sep October 2021


Site

Fr
1

Sa
2

Su
3

Mo
4

Tu
5

We
6

Th
7

Fr
8

Sa
9

Su
10

Mo
11

Tu
12

We
13

Th
14

Fr
15

Sa
16

Su
17

Mo
18

Tu
19

We
20

Th
21

Fr
22

Sa
23

Su
24

Mo
25

Tu
26

We
27

Th
28

Fr
29

Sa
30

Su
31


Site

4

4

5

5

6

6

7

7

8

8

9

9

10

10

11

11

12

12

13

13

14

14

37

37

38

38

39

39

40

40

41

41

42

42

43

43

44

44

45

45

46

46

47

47

48

48

49

49

50

50

51

51


Site

Fr
1

Sa
2

Su
3

Mo
4

Tu
5

We
6

Th
7

Fr
8

Sa
9

Su
10

Mo
11

Tu
12

We
13

Th
14

Fr
15

Sa
16

Su
17

Mo
18

Tu
19

We
20

Th
21

Fr
22

Sa
23

Su
24

Mo
25

Tu
26

We
27

Th
28

Fr
29

Sa
30

Su
31


Site
Last update: October 19, 2020 at 7:00 PM